Czech Crystal Drop Beads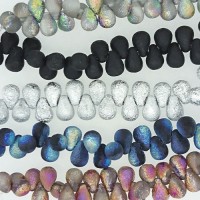 These Czech Drop beads are great for adding detail and fringing to your beadwork, as well as texture and drama to statement pieces. The Drops are top drilled (unless otherwise stated), where the hole runs through the top of the point end of the bead from one side to the other. This helps your bead to hang like a teardrop and the rounded bottom catches the light to help create drama and interest around the edge of your beadwork.
Available in a range of colours to match and accentuate any design.
---
Showing 1 to 26 of 26 (1 Pages)