S-Lon D thread for beading, 0.11mm diameter on a 71m reel.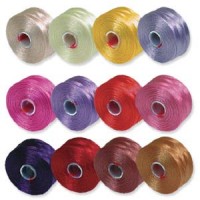 S-Lon Thread Type D (Tex 45) is about 0,11mm in diamter (TEX45) and is supplied on a spool of approximately 71m.
An all-purpose beading thread, it will fit through the eye of a size 12 needle. It feels silky to the touch, is stronger than Nymo and needs no pre-conditioning.
Available in a wide selection of colours.
---
Showing 1 to 38 of 38 (1 Pages)