Miyuki Beading thread - 50m reels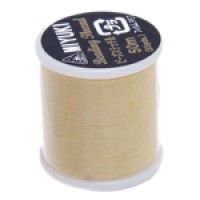 Supplied on 50m reels, Miyuki Beading thread is most likely re-badged KO Thread - but at a lower price! Available in a range of 12 colours. The same diameter as 'B' thread (0.2mm diameter) it threads through a size 10 or 12 needle. The thread is known as 330dtex - meaning 1000m weighs 330g.
It's make-up means that it does knot very tightly. It does not require conditioning and its smooth surface means it is easier to thread through a needle.
---
Showing 1 to 24 of 24 (1 Pages)