French Wire, gimp or Bouillion for finishing thread ends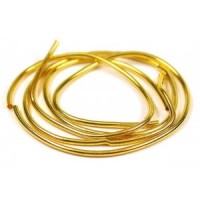 French wire - also known as gimp or bullion hides the unattractive area next to your clasp. This exposed area also needs to be protected from the friction of wear as well as oils, dirt, and fragrances. The perfect finish for your item!
To use simply leave the last few remaining beads unknotted, cut a quarter inch of french wire and pass your thread through the beads and knot between them.
---
Showing 1 to 2 of 2 (1 Pages)