Acrylic Beads 4 Kids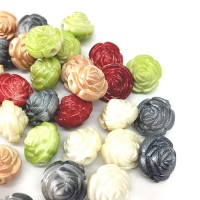 Acrylic beads are a great substitute for heavier glass beads, and beacuse of this they can come in a range of shapes and sizes.
Acrylic beads are easy to mould when being made, so they come in lots of fun shapes too!
These beads are perfect for creating statement bracelets and necklaces, or for being the main feature in a beaded item such as a bookmark or a keyring.
Flowers, animals, spacers and much,much more re all in our acrylic range!
---
Showing 1 to 27 of 27 (1 Pages)