Rose Gold Stamping Blanks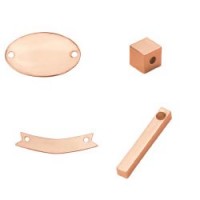 Our Rose Gold Blanks are Superb quality for when you wish to make professional stamped pieces.
Made by ImpressArt they have a genuine Rose Gold plating - not Rose Gold Colour. The plating is applied over Pewter, giving weight and ease of stamping (Pewter is beautifully easy to stamp).
---
Showing 1 to 20 of 20 (1 Pages)