ImpressArt Metal Stamping Kits & Stamps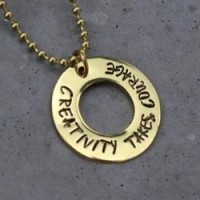 Become your own manufacturer! Use our range of metal stamping products (including ImpressArt) to create your own unique components. Choose your metal blank, stamp your chosen words or shapes and make a hole where you wish to attach it. Then, why not add some colour by rubbing in one of the many colours of gilders paste - or drop the metal in Liver of Sulfur for a short time to give a wonderful patina finish.
** Please note, all of our stamps are designed for use with soft metals (brass, aluminium, copper, alkeme, silver) and not with hard metals such as stainless steel. If stamping is attempted with stainless steel or other hard metals, the impression will be weak and the stamps will wear very quickly.
---
Refine Search