Miyuki Bugle Beads for Your Beading Projects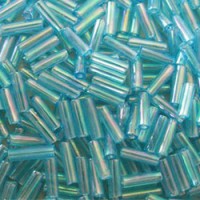 We have a wide range available in Miyuki bugle beads of different colours and lengths.

Miyuki bugle beads are perfect for fringing, making a quick and easy chain or weaving into bracelet designs! Miyuki bugle beads are versatile little beads utilised in tons of different beading projects. Use them between larger or smaller beads in jewellery. They also look terrific when used in bead embroidery. They come in different finishes, colours, and lengths adding to the versatility of the bead.

---
Refine Search