S-Lon D Beading Thread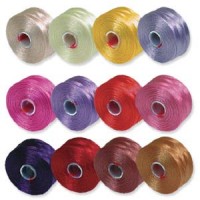 S-Lon D is a type of S-Lon Beading Thread , an all-purpose bead string that fits through the eye of a size 12 needle. Silky to the touch, S-Lon D is stronger than Nymo and needs no pre-conditioning.
This beading thread is available in spools of approximately 71m and is 0.11mm in diameter (TEX 45).
S Lon D Beading Thread (also known as Superlon) is lightweight but durable. It has very low stretch, which makes it perfect for all kinds of beadwork.
Find out more about the other types of S Lon Cords on our blog. You can also find S-Lon thread and S-Lon AA thread products elsewhere on our site.
Available in a wide selection of colours.
Have any questions? Why not get in touch for help finding the perfect bead string for your project?
---
Showing 1 to 36 of 36 (1 Pages)