small Round crystal pendants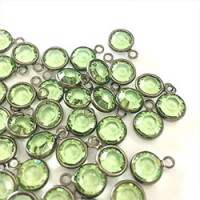 Swarovksi Channels are wonderful little crystals, mounted in a ring frame (Gold Colour, Sterling Silver or Rhodium plating) that maximises their visual appeal. They have a fixing ring (one or two, that can be easily cut off if required) for attaching them to your designs. They may be used as a small charm or pendant - or with the double ring versions, used to create a chain.
We have SS29 (approx. 6.2mm diameter) and SS39 (approx 8mm diameter).
---
Showing 1 to 4 of 4 (1 Pages)