Miyuki Half Tila Beads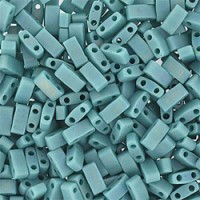 The little brother of Miyuki Tila beads, Half Tila beads are half the size of full size Tila beads, hence the name. These slender rectangular beads have with two parallel holes which makes them ideal for stitching next each to create a 'tile' effect. Also with their smooth surface Half Tila beads make flat and comfortably wearable designs.
When bead weaving, Half Tila beads are great to combine with seed beads to create multi-strand geometric patterns. Miyuki seed beads or Miyuki delica seed beads would be great to use for consistency.
Keep in mind Tila and Half Tila beads are delicate so try not to spill them not to a hard surface. Miyuki recommend pouring your beads on a soft surface such as a bead mat. We supply beading mats for this and other beading purposes.
---