Fireline Beading Thread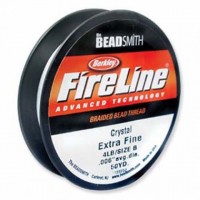 For a super strong but lightweight thread, try Fireline beading thread. Fireline thread is high quality and made from the strongest fibre available per diameter. It's stiff enough not to need a needle, but drapes nicely and holds knots well.
The Fireline beading thread sizes range from 15 yards to 300 yards. It is also available in 3 colours: Crystal Clear, Black Satin, and Smoke Grey.
Order Fireline thread online now for free UK delivery over £25, or visit our New Forest store to see our collection of this super strong thread for beading in person.
Find out more about Fireline and other threads for beading on our blog.
---
Showing 1 to 16 of 16 (1 Pages)