Miyuki Delica & Seeds
Miyuki Delica (aka Cylinder) and Seed beads from Japan are arguably the best beads that other manufacturers aspire to. They are precision made beads that are very consistent in size, shape, hole alignment and colour - so important in beadwork! Their bead holes are larger than other small beads, allowing for multiple thread passes when stitching. These factors make Miyuki a firm favourite for designers in beadwork - as well as embroiderers, quilters and fashion designers.
It is really easy to find Miyuki beads on our website using the Miyuki colour codes by simply typing the colour code into the Search field at the top of the web page.
The numbers in the yellow boxes below show the colour code for Miyuki Delicas and Seed beads: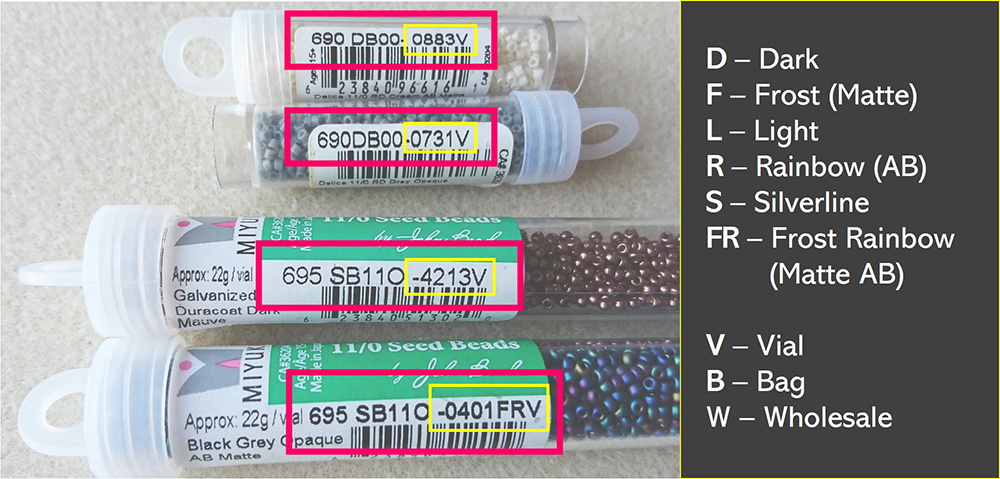 If you are not sure how to read the Miyuki codes on tubes, here is a breakdown for each part of the code:

The information shown in the pink boxes is where you can also find the Miyuki codes on our website pages:
Other Miyuki Beads

Available in a range of different shapes and sizes we also offer other Miyuki beads such as Tilas, Half Tilas, Quarter Tilas, Cubes, Drops, Magatama, Long Magatama, Bugles, Rectangles and more. And as all these beads are again precision made and available in a large range of colours and finishes, it is not surprising Miyuki are so popular!

We stock a vast range of Miyuki Beads in both small and large pack sizes and are continually adding to existing stock.

If we do not have what you are looking for, please ask us and we can normally supply them quite quickly in Trade and Wholesale quantities.