S-Lon Beading Thread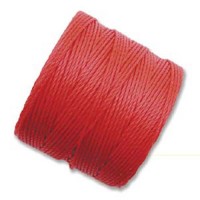 Made from an 18-ply Nylon cord, S-Lon cord (also known as Superlon) is 0.5mm in diameter, making it an ideal bead string. It is extremely strong and has virutally zero stretch.
With virtually no fraying, S-Lon Beading Thread is ideal for picking up beads without a needle. It can be cut either with sharp scissors or a Thread Zapper.
S-Lon beading thread is a very popular choice for making Beaded Kumihimo designs.
There are multiple types of S-Lon thread available in our store: S-Lon (found here), S-Lon AA, and S-Lon D, each a different size and ideal for different projects. For more information on different bead strings including S Lon Cord, take a look at our blog.
---
Showing 1 to 21 of 21 (1 Pages)