S-Lon bead weaving thread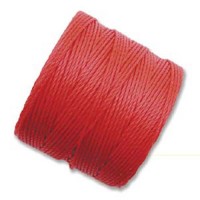 Made from an 18-ply Nylon cord, S-Lon (or Superlon) cord is 0.5mm in diameter, making it ideal for Bead Stringing. It is very strong and has virutally zero stretch. With virtually no fraying, it is ideal for picking up beads without a needle. It can be cut with sharp scissors or a Thread Zapper.
S-Lon is a very popular choice for making Beaded Kumihimo designs.
---
Showing 1 to 29 of 29 (1 Pages)