Choosing The Right Beading Cords and Threads

S-Lon, Waxed Cotton Cord, Knotting Cord and Rattail

by Damaris Ramenaden
Beads are so versatile, that's probably why we love them so much! But they're not just the tiny Seed beads or Delicas that many of us are used to. What about those wonderful shaped beads like SuperDuos and Fire Polished beads, or those gorgeous Murano glass beads with foiled details? Some beads don't always need to be stitched together with lots of other beads.
That's where our thicker threads and cords come in. As part of our 'Flip your Freads' blog series, we thought we'd also take a look at some of the other threads and cords than can be used as an integral part of your overall design; we're talking jewellery and home décor that features threads that are knotted or braided together to create a patterned band, a sturdy rope or even a decorative wall hanging.
S-Lon cord, Knotting cord, Waxed Cotton cord and Rattail are all the agenda, so let's begin!
S-Lon cord is a 3-ply twisted and bonded multifilament nylon cord with a diameter of 0.5mm. The cord feels silky but strong, with a sturdy drape and near zero stretch. Although the cord is bonded to prevent frays and fluffing, the ends can be prone to fraying if cut with blunt scissors, if over-worked or forced through tight bead holes.
This cord is great for working with seed beads size 11/0, 8/0, 6/0 and any beads with a hole 0.8mm or larger. Being stronger and thicker than standard beading thread, it is also an ideal choice for beads such as gemstones, pearls and crystals. However do pay attention to the bead coatings and platings, especially for the 11/0 seed beads, as this can affect the hole size and make it hard for the cord to pass through easily. Likewise, it's worth culling any beads with particularly sharp edges as they will eventually work through the cord, especially if it 'moves' a lot against the bead hole.
You can use S-Lon for simple strung necklaces and bracelets; think pieces with a handful of focal beads strung on a colour coordinated strand or multi-strands. S-Lon also works well with shaped beads, such as Pinch and Rizos, when braided using a Kumihimo disc or bead crocheted. This creates a solid rope that's flexible and holds its shape, and teamed with a mix of colours can create an eye-catching design.
It's also good for macrame and mini macrame projects too, but it is worth remembering that as the cord has a silky feel to it, a simple loose knot may slip or move slightly, so make sure it is tight and secure. You can always use a touch of glue to keep a knot in place if you need to.
S-Lon comes on 77 yard reels, with a Tex number of 210

(the amount of grams per 1,000m of cord).

It's available in 33 different colours, from spicy warm tones

to cool neutrals.



Other thicker cords are also available, as well as S-Lon. For example, Waxed Cotton Cord is an excellent cord for featuring in your designs.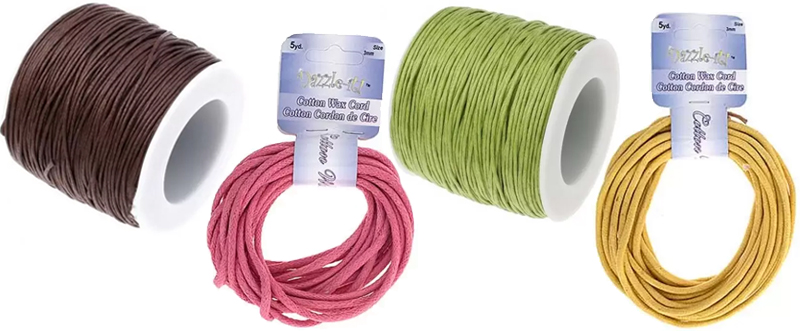 Waxed Cotton Cord is made up of multiple braided lengths of cotton that are glazed with wax to avoid fraying and fluffing. As a result it's a round, super strong and durable cord that's hard-wearing and versatile. The wax glaze creates an almost 'polished' finish to the cord which helps to highlight the colour and give it a more elegant look.
It has a clean, smooth surface that's easy to use and holds knots and ties well - perfect for making macrame, sliding knots or macrame knotted closures, as well as other decorative forms of knotting. It's also great for simple stringing projects where you want the cord to be the main element.
Again, like S-Lon, there's little to no stretch, meaning the design you make will still look the same over time.

It comes in a myriad of colours so you'll never be short of a match for your beads, charms and pendants, and it's perfect for fashion jewellery as you'll always match the season's colour of choice.
Waxed Cotton Cord comes in a range of diameters - 0.5mm, 1mm, 1.5mm, 2mm and 3mm and as a minimum of 5m length, up to 25m spools. The smaller diameters are great teamed up with gemstone beads and crystals in Kumihimo and bead crocheted designs.
Knotting Cord or Chinese Knotting Cord is another great choice for using as a cord-based piece of jewellery or decoration.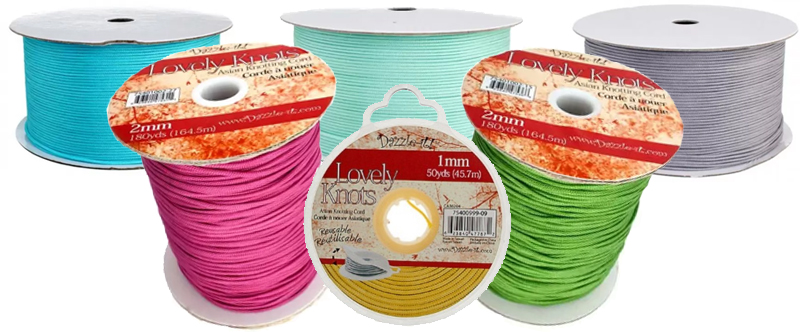 Knotting Cord is another nylon cord that is sturdy and non-stretchy. It has a strong core that helps the cord form a smooth, round shape. Plus it gives it a stiffness for shaping and holding all types of simple and intricate knots - you can define how you want the knots to sit in your design e.g. tightly formed or with negative spaces for a more free-flowing look.
As the cord is so good at holding knots, there is no need to use glue. But if you would like that extra secure feeling when finishing your design, you can use heat to 'seal' the ends. As the cord is nylon, the heat will melt the ends together to stop them fraying. Take care though, as the cord can start to 'ball' up into a black blob if you apply too much heat or for too long!
This cord is perfect for:









Chinese Knots (a decorative handcraft art that began as a form of chinese folk art)

T

he modern Shamballa bracelets

Macrame projects
Knotting cord comes in a range of colours that remain bright and stable throughout use - a great feature when you want the thread to be the main focus of your project.

Typically it's available in 0.8mm, 1mm and 2mm diameters, and in lengths of 20yds, 50yds, 100yds and 180yds. We also sell Knotting Cord cut to pre-defined lengths e.g. 5m or 10m, as we know many of our customers prefer to buy a small amount to play with or for just what they need.
Finally, another option for a thicker cord is Rattail.
Rattail Satin Cord is similar to Chinese Knotting Cord when it comes to how it can be used in your work.
It is great for knotting and other designs where you want to show-case the cord; it's mainly used for Kumihimo, though it is also popular for simple strung necklaces and bracelets, shamballa style bracelets and macrame decorations. It is also a lovely alternative to using leather cord or beading wire too.
Rattail is made of shiny rayon and has a soft, shiny satin surface which feels smooth and silky and reflects the light wonderfully. The cord itself is woven with usually a central core of cotton, however because of this a little care should be taken with beads (or even fingers) that might have rough edges as they can catch and pull on the thin outer fibres.
Again, like all our other thicker cords, there is no stretch with the cord, so your design will stay true over time.
If you've worked with Rattail before, you may have noticed that the ends can fray very easily. This can be easily overcome by either glueing the ends once cut, then re-trimming them to create a nice sharp finish, or by melting the ends slightly. Again take care not to burn the ends or keep them in the heat for too long, otherwise you'll get the nasty black blob!
If you'd prefer not to use just glue or heat, you can also finish your work neatly using glue-in or fold-over necklace ends. This also means you'll get more of a choice of clasps than if you just finish with a knot.
Rattail comes in a wide range of colours which are bright and jewel-like.

Be careful not to get the cords wet though, as some colours may 'bleed' slightly.


it's available in 1mm, 1.5mm, 2mm, 3mm and 3.5mm diameters.






Rattail comes in a wide range of colours which are bright and jewel-like and in 1mm, 1.5mm, 2mm, 3mm and 3.5mm diameters. Be careful not to get the cords wet though, as some colours may 'bleed' slightly.
All of these featured cords can be used successfully by themselves or teamed up with other material such as Soutache, Sari Silks and Chain to create a richer multi-media product.
They're fantastic for really adding depth and colour to your designs, and when you've got that show stopper of a bead or pendant, what better match could there be?
If you've got into a slump with small-bead weaving or you just need to give your creativity (and wardrobe) a boost, try having a go at making something with our thicker cords - we think you're going to love them!