Our New Forest Bead Shop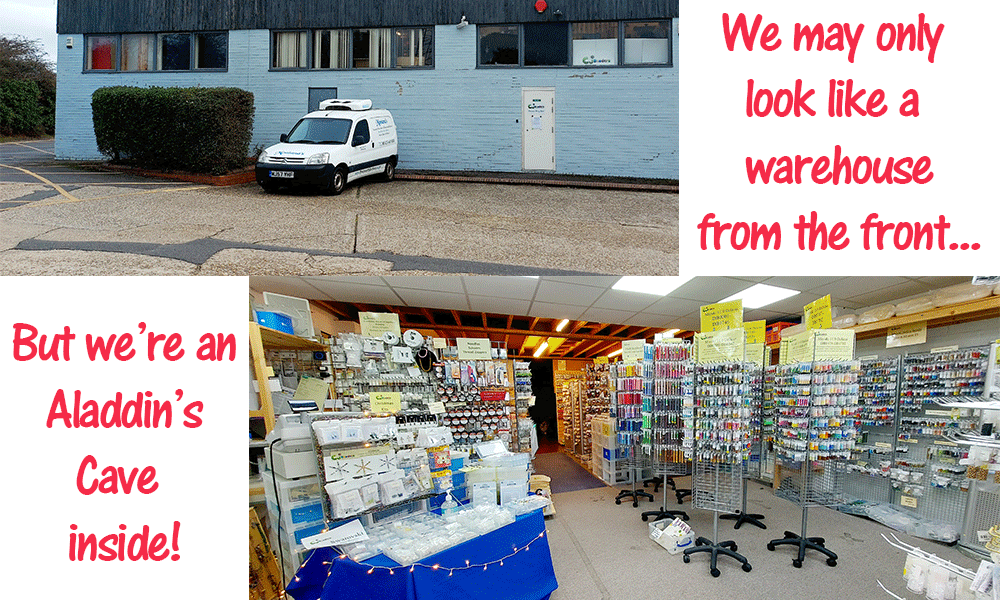 We're open to everyone and love to see all our customers face to face where possible. Come and see us and all of our wonderful products in our real-life physical New Forest Bead Shop. There is no need to book in advance, just come along and ring the bell!
Please note, although face coverings are no longer required by law, you are more than welcome to continue wearing one when you visit us if you wish.
We're on the edge of the New Forest, close to New Milton, Christchurch, Lymington and a short drive from Southampton and Bournemouth.
PLUS we offer all our New Forest Bead Shop Customers a loyalty card that allows you earn points as you shop - every £10 you spend gives you one loyalty point and every 10 points gives you a free £10.00 voucher to spend with us at your next visit!
Our New Forest Bead Shop opening hours:

Monday to Friday: 9:30am - 2:30pm
First Saturday of every month: 9:30am - 2:30pm
Our website is open 24 hours a day, 7 days a week for all online ordering as normal
Over the Christmas period our real-life New Forest Bead Shop opening hours will be:
Monday 18th December - Thursday 21st December: 9:30am - 2:30pm
Friday 22nd - Monday 1st January: CLOSED
From Tuesday 2nd January: our usual opening hours resume - weekdays - 9:30am - 2:30pm, 1st Saturday of every Month 9:30am - 2:30pm
Our Click 'n' Collect service will also only operate during these same opening hours.
As well as our New Forest Bead Shop closing for a Christmas break, our offices will also close for Christmas at 4:00pm on Thursday 21st December until 9:00am Tuesday 2nd January. During the Christmas break our team will have restricted access to email and telephone messages, so please be patient and bear it in mind if you need to speak to us during this time.
Please note, there may be delays with Royal Mail over the Christmas and New Year period, however we will always aim to get your purchases to you as quickly as possible.

For our Click 'n' Collect service, Please see here for more details
You can also email us at sales@cjbeaders.com or telephone us on 01202 798151 with any queries.

Finding us

We are located in Williams Industrial Park (a small industrial park on the outskirts of New Milton) which is signposted off of Gore Road. Head straight into the park (don't turn left into Jewsons Builders Merchants), keep going straight on and before you reach the big red sign in front of you that states "Williams Industrial Park", you'll see our white front door on the right-hand side that'll have our CJ Beaders sign on it. Come and give us a ring on our doorbell!
You can also use the following navigation app's information to help you find us:

Google Maps - Q83H+8GF type this code into the search bar to find us and plan a route
What3Words - skips.newsreel.wage type this into the search bar to find us and plan a route
By Bus

The 1A and X2 bus routes passes the Park entrance, between Stem Lane and Milton Mead. For details of the Bus timetable, click here.