Beadalon Artistic 10 -34 Gauge Copper Wire in range of colours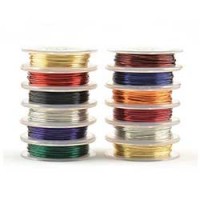 Artistic Wire is available in a large selection of Colours and Gauges that offer striking beauty and shine. Being dead soft, it is easy to bend and shape - and can be work hardened to hold its shape.
Choose colours that complement one another to achieve warm, colourful designs. Or, make a statement and add drama to your designs by using contrasting colours. The only limit in working with coloured wire is your imagination!

---
Refine Search