Choosing The Right Beading Threads and Cords

Griffin Illusion and Supplemax

by Damaris Ramenaden
For our last blog in our 'Flip Your Freads for February' series, we're taking a closer look at Illusion Cords. If, like many beaders, you started out beading and stringing as a child using some old clear plastic fishing line that you found in the shed or garage, then our Illusion cords will take you right back to that moment when the beads just seemed to magically hang in the air.
Under the spotlight (or should that be magnifying glass), we looking at Griffin Illusion Cord and Supplemax.
We have already written a blog article about Supplemax which you can read here, so we'll only be touching on to recap the highlights later on.
But first, let's see what Griffin Illusion Cord has to offer.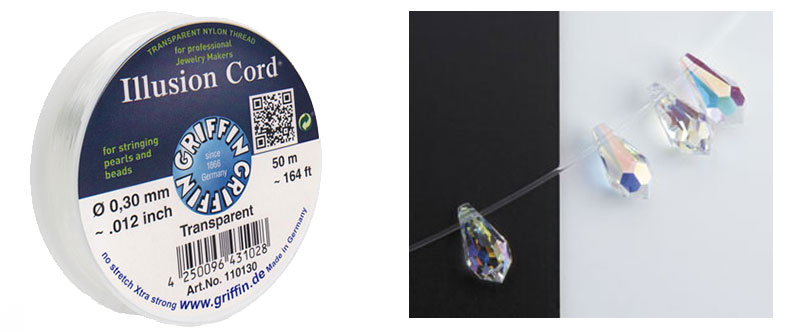 Griffin Illusion Cord is made in Germany and is crystal clear monofilament nylon thread that has been specially produced for the beading and professional jewellery maker's market.
Being nylon, it has no stretch so your designs won't become distorted over time. It feels soft and supple, and has a lovely drape to it, but be careful of the weight of beads you use - they won't stretch the cord but they may pull on the strands, giving your jewellery a look of being dragged down.
Griffin Illusion Cord is really strong and tearproof; this is especially useful when it comes to using it with crystals and other sharp-edged beads. Because of this is, it is also great for stringing and showing off semi-precious beads and stones.
Many people like to create necklaces with multiple strands, and here's where the Griffin Illusion Cord really comes into its own - you can create lovely 'bunches' of beads as part of your design, or a beautiful 'waterfall' effect where the beads magically tumble down the wearer. Simple crimp beads can hold your beads in place wherever you like, as as the cords are quite fine you can usually pass several of them through a bead hole.
Griffin recommends finishing the cord by knotting it (as shown in the diagram). You can then hide the knot inside a bead if possible, or cover it with a crimp cover (however take care not to catch the cord in the cover when you close it, otherwise you could be in danger of cutting through the cord).

If you'd prefer, you can also use wire/cord ends to finish off your creation.






Griffin Illusion Cord is only available in the transparent colour and in 50m reels and in 0.15mm, 0.25mm, 0.3mm, 0.35mm, 0.4mm, 0.5mm and 0.6mm diameters.
Alongside Griffin Illusion Cord we also have Supplemax Illusion Cord. Read our in-depth blog here, and just get the highlights below.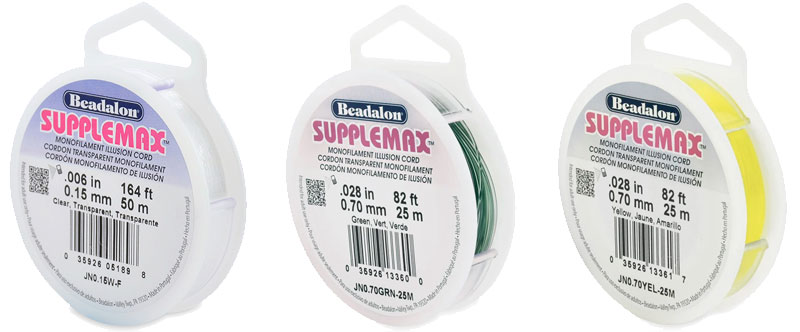 Supplemax is another monofilament nylon clear cord that is predominantly used for 'floating' jewellery. Just like the Griffin Illusion Cord, it is lightweight, extra soft, strong and durable.
You can use it in exactly in the same way as the Griffin Illusion Cord to create jewellery or use it in other craft projects, with the added bonus that Supplemax also comes in transparent colours, such as Blueberry, Yellow and Green, for greater design variety. It also comes in a braided variety that offers a greater resistance to abrasion.
Supplemax is available in 25m, 50m and 100m reels, and in diameters 0.15mm, 0.25mm, 0.3mm, 0.35mm, 0.4mm, 0.5mm, 0.6mm and 0.7mm.
??

And of course, both types of Illusion cord aren't just suitable for beading - you can use them to make small discreet hanging loops for decorations, hanging signage, shop fittings, mobiles and insides of dream catchers - we've even sold reels to magicians for their magic tricks!
They really are bewitching; get yourself some today and (not) see it for yourself!