Czech Charlottes Beads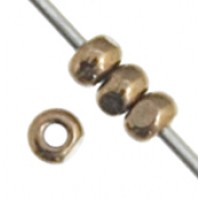 Charlotte beads (or Rocailles as the Factory call small round beads) are like regular round Czech seed beads with an exception! They have a single cut face or facet. This gives added sparkle, or may be used in intricate beadwork to locate the bead on a flat surface. This also makes them very popular within embroidery projects, particulary for very end designs that use gold and silver plated Charlottes to create real sparkle and flair.
Available in a range of sizes and colourways, including fine silver and 24kt gold plating.
---
Refine Search