Choosing The Right Beading Cords And Thread

Elasticity, Stretch Magic, Griffin Elastic and Elonga

By Damaris Ramenaden
Bead stringing, bead weaving, bead embroidery and bead looming all always popular ways of working with beads, but be honest, who has almost finished a project then left it because you've got to bead a clasp or add a closure? Somehow, even though you've spent hours working on something, that last push to make a beautiful clasp is just a step too far - can't we just... knot it and be done?!
For jewellery made with elasticated threads, that's exactly what you do - so simple, so quick and so many variations of a design that you can reimagine your accessories wardrobe overnight!
Therefore, we thought we'd spend some time giving our beading skills a stre-e-e-e-e-e-tch with these fantastic elasticated threads!
We're going to take a look at four popular elasticated threads - Elasticity, Stretch Magic, Griffin Elastic and Elonga.
Let's start with Elasticity, which is manufactured by Beadalon in the USA.
Elasticity is a soft and supple elastic thread that drapes elegantly but stretches just like a rubber band. It is a single strand cord that is round and smooth in shape and doesn't fray.
It's very strong, making it suitable for stretchy bracelets, rings and even hair bands. Plus, it doesn't lose its stretch, so your creations can be worn time after time and still look as good as when they were first made.
Being elasticated, it will hold a knot well, however you should use a surgeon's knot as the second loop holds it in place well whilst you secure it further. It also minimises the chance of the knot untying itself. When using elasticated cord, it's always best to tie your knots close to a larger holed bead if possible. That way, you can manipluate the knot to hide inside the bead once you've knotted it tightly.
We'd also suggest adding extra security to your knots by using a dab of glue, such as E6000 Plus as this will flex with the knot and the cord.
As with all stretchy cords, giving the thread a pre-stretch will pay dividends in the long run as it helps to maintain your jewellery's shape.
As we mentioned, the cord is a single strand, so the cut end will be blunt and stiff enough to thread on beads without using a needle. However you can use an elastic cord needle or a collapsible eye needle for quick and easy stringing if you find it more comfortable.
Elasticity comes in five colours - Clear, Black, Satin Silver, Satin gold and the new Satin Rose Gold.

It's available in 5m, 25m, 100m and 500m lengths and in 0.5mm, 0.8mm and 1m diameters.



As always, if you're after some of the longer lengths of Elasticity, we get these to order so please do let us know what you need.
Next up is Stretch Magic.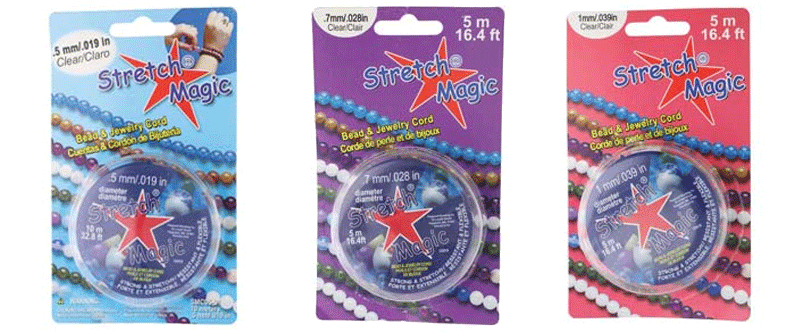 Stretch Magic is another round, rubbery cord that's strong and stretchy and made from 95% Polyurethane.
Like Elasticity, the cord is single strand so it's easy to thread beads on with or without a needle, plus it won't fray or become fibrous.
It's very flexible, with great elasticity and resiliency against breakage. It's strength and shape lends itself to great knotting, and it even suggests you can crimp with it - however please take care if doing this as all metal will cut all elastic cords if crimped incorrectly, or allowed to rub against each other during wear.
Stretch Magic comes in Clear, Black, Sparkle Silver and Pearl colours.

It's available in 5m, 10m, 25m and 100m lengths and in 0.5mm, 0.6mm, 0.7mm, 0.8mm, 1mm, 1.5mm and 1.8mm diameters.



Our next round, rubbery cord is Griffin Elastic.
Griffin Elastic, made in Germany, is our third single, strand elasticated cord that is very durable and stretchy. In fact, it can be stretched up to two times its length with no problems.
Again, being single strand there's no chance of fraying or fluffing, and it's easy to string on beads with or without a needle.
It's permanently soft and supple and is another ideal choice for bracelets, rings, hairbands and safe jewellery for kids that can be easily slipped on and off again.
It works best with beads and stones that have holes larger than 0.5mm diameter, so bear this in mind when it comes to the beads you're using.
There's a greater choice in colours for Griffin Elastic. You can have Green, Dark Red, Blue, Clear, Black and Lilac!

However there's slightly less choice when it comes to lengths and diameters - 5m, 25m and 100m lengths and in diameters 0.5mm, 0.7m and 1mm only.






Our final elastic cord is slightly different to the first three in this blog - Elonga, made in the USA.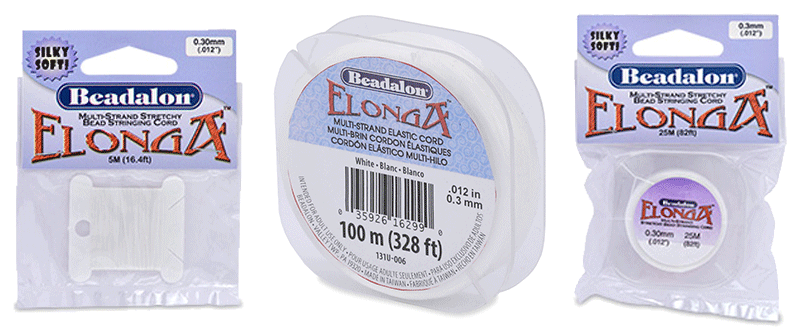 Elonga is made of several individual stretchy strands that have been bonded together. This gives it superior elastic properties (it's almost like stretchy floss), but can leave it prone to fraying at the ends or fluffing if caught on sharp bead edges. However, this can also be a positive. When you start to notice your jewellery begin to fray you know it's time to restring - much better than having your bracelet suddenly snapping and your precious beads escaping!
Due to its multiple strand construction, the cord has a soft, silky drape and is more ideal for lightweight beads. It's flatter and almost more ribbon-like in shape, so you may find it can be used more successfully in smaller holed beads than the round cords that have no 'give'.
You can thread beads on with no needle, but if you overwork the cord, or have to force it through tight bead holes, you may find the end starts to fray and you'll have to trim it. You may find it better to use a collapsible eye needle or an elastic cord needle for comfort and ease.
As individual packs, Elonga is only available in White, in lengths of 5m, 25m and 100m, and diameters of 0.3mm, 0.7mm and 1mm.

You can also buy multi-coloured packs of Elonga in lengths of 5m each in 0.7mm diameter.



That's four different cord options for stretchy jewellery!
As well as choosing the cord that's right for you and your project, here are some more hints and tips for working with elastic cord:
* Stretch your cord before you start stringing to help your jewellery stay the right size and shape.
* Check the size of your jewellery is correct before tying your knots. Remember, larger beads make smaller inner diameters, especially when it comes to bracelets - measure it against your wrist before commiting to a knot.
* When you're tying your knot, make sure you've pulled your jewellery or band taut a little to stop the knot from slipping. This will also help your jewellery fit snuggly when worn and stop the 'sagging' look of a bracelet or ring that's lost it's stretch!
* Use a needle or a fine beading awl to help move your knot down or keep in place as you tighten it.
* Try and pull your knot through to sit inside a bead, as this will not only finish your work professionally but also provide extra protection for your knot. And if you're glueing your knot, do this just before you pull it through!
* We recommend E6000 Plus if you want to glue your knots, as it's waterproof and flexible - it will move with the knot and still hold it secure.
* If your creation breaks when you're tying a knot, it's probably due to either the cord being too taut, or pulling the knot too tightly. Practice makes perfect, so try tying a couple of knots on small lengths of different elastic cord to get used to how tight you can go. If you've got longish lengths of spare cord left after you've trimmed a knot, use these to 'stress test' your knots and to see how much you pull on it before it breaks
* For bracelets, try not to stretch the shape when you put it on - instead roll it on and off your wrist to maintain the integrity of the cord and the shape of your jewellery. Keep it away from creams, perfumes and other products that can affect and degrade the cord and beads.
Now go give your creativity a stre-e-e-e-e-e-tch with our elastic cords!