Findings For Miyuki Beads And How To Use Them

By Damaris Ramenaden
For many beaders, finishing off their beadwork can be a bit of a love/hate relationship - it's a great feeling when you finally complete a project or put a UFO to bed, but just that last push of adding clasp or closure can sometimes be a bridge too far! How many beaders do you know that have put down their work with a view to adding the clasp later on (especially if it's a beaded clasp!) but three months later it's gathering dust somewhere?
We've a range of findings and closures that'll not only alleviate that "finishing-my-beadwork-procrastination" but allow you to show off your work with a high quality, professional finish.
These findings can also be used for much more than just a necklace or bracelet closure too, as you'll see below!
Miyuki End Tubes
Miyuki 'End Tubes' are manufactured in Japan by Miyuki themselves, so you can be assured of their high quality and precision. They are hollow tubes with an open slit in the bottom of them and an open cap at either end of the tube. The idea is to thread the last row your finished loomed or flat-stitched beadwork carefully into the tube, then use pliers to carefully bend the caps down at the end to seal it safely in. You can then add on your choice of clasp or hanger using jumprings.
They're ideal for finishing bracelets, especially wide designs as they will hold the design flat, but can also be used for other beady creations such as small beaded scrolls or pictures, charms for handbags or phones, or as earring frames to hang beaded peyote shapes from.
In fact, you don't even need to use beadwork with the end caps - You can use them to hide the ends of crimped beading wire (see the bracelet example in the Slide Connectors section) or you can thread beads onto headpins (or leave them bare) then thread the loops or heads of these pins into the tube. This creates a lovely swinging fringe effect, though you might need to use your pliers gently to make sure the slit in the tube is closed enough to hold the headpins in.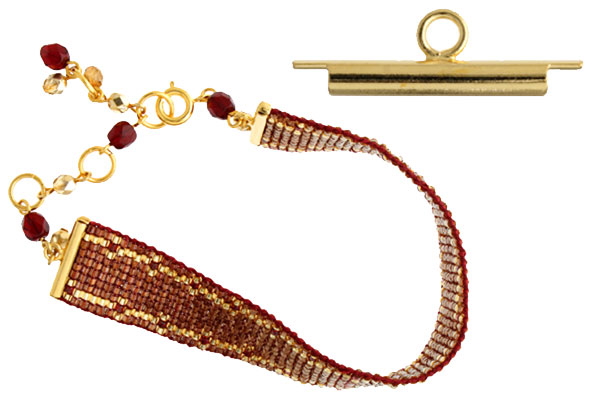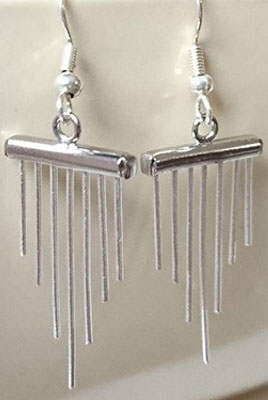 Miyuki Strap Ends
Miyuki has a small variety of Strap Ends that are perfect for finishing loomed and flat-band beadwork, such as peyote, flat chenille and right-angle weave stitched bands.
They are incredibly simple to use - you simply pass one end of your beadwork through the oblong gap and fold it back on itself, then stitch it back onto itself for a secure and neat finish. Finally, add on your choice of clasp or hanger using jumprings.
Although your first reaction may be to use them just for bracelets, you can also use them for other beady or crafty creations such as tiny decorative scrolls, bookmarks, handbag or phone charms. You could even use them as mounts for drops and fringes for earrings, though some people may find them a little heavy. You can also use these findings for leather, knotted and macramé work and textile creations.
Again, these are manufactured in Japan by Miyuki themselves and are lead and nickel free.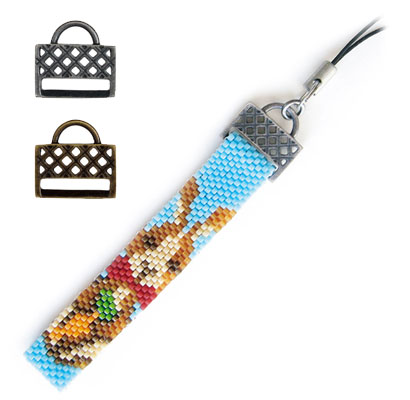 Slide Connectors
These are the same as the Miyuki End Tubes, however they have not been manufactured by Miyuki. The theory is the same - thread your beadwork, headpins or other crafty creations into the tubes then close the end caps carefully.
Some of our Slide Connectors also come with a clasp and extender chain attached, making finishing your work even quicker and easier!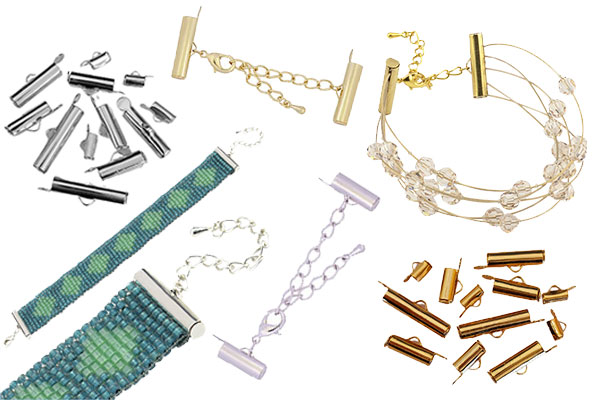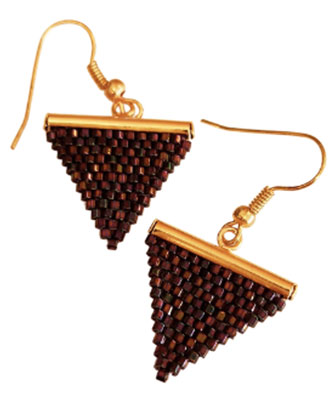 Slide Bar
Although these are not manufactured by Miyuki, these Slide Bar clasps work in the same way as the Miyuki Strap findings. Simply thread your beadwork through the closed loop on the outside edge of one of the clasps, then stitch it back to itself to finish it. We have also seen where people don't pass the beadwork through the loop; instead the beadwork sits under the loop then the thread is passed through the bar loop, up through larger spacers or beads, then back down through the loop and into the beadwork. This can create a lovely finish on the work however if you choose do this you'd need to check it doesn't put too much pressure on the beads securing the work.
Some Slide Bar clasps also come with a tiny magnet inside the tube for added security when wearing.

A key point to remember and save yourself extra work when using these clasps is to make sure your clasp is stitched onto your beads the right way! When you add the second side of the Bar Clasp, we'd suggest putting the whole clasp together first, then securing your work to it. That way, you'll be sure the clasp will close together correctly (not with both tube ends facing the same way!).
Cymbal Findings
Cymbal findings have been around for a little while now and their popularity is always growing, along with the ingenious ways they have been used in a creation. They are a unique and imaginative collection of metal elements designed to fit and integrate with the most popular bead-working beads, including GemDus, SuperDuos, Silky, Honeycomb, PaisleyDuo, Ginkos, Kites and ChevronDuo beads, as well as Miyuki Tilas, 11/0 and 8/0 Delica and Seed beads.
You can use them as beadwork endings, side beads, connectors in the middle of your beadwork, earring hangers, bails and pendant settings.
They are easy and versatile to use, as each Cymbal finding has holes drilled through the bottom or side of them, allowing you to pass your thread through and incorporate them as part of your design.
The Cymbal findings shown below are great for Miyuki beads, however you can also try the ones designed for the shaped beads too, as they may add an extra element of design flair to your project!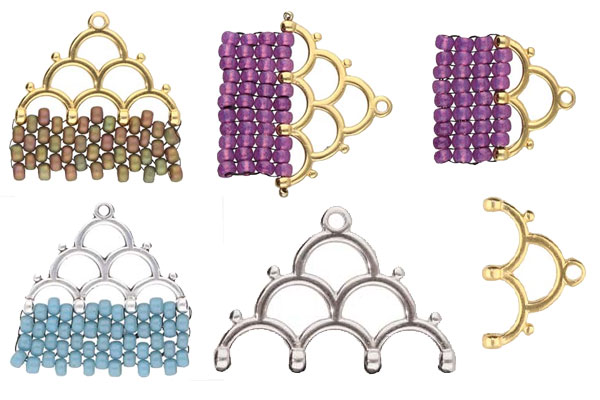 There are so many beautiful findings out there for finishing your beadwork, and as you've seen they don't always need to be used for their original purpose. No more excuses for leaving any UFO's with no clasps now!