The Right Necklace Lengths For Your Design

by Damaris Ramenaden
Isn't it great when you find that perfect necklace that fits and hangs just where you want it to. And isn't it such a pain when you've spent hours working on a piece to find that once you've attached the clasp or closure that it just doesn't hang correctly, or the overall balance of the design is off? Who else has had the misery of pretty components jutting out at awkward angles off your collarbones, or sections of your designs starting too early or late around your neckline?!
Our blog aims to help alleviate these issues as much as possible, to help you understand perhaps why your creations aren't doing as they're told and what you can do to turn them into successful and beautiful projects. We're looking at the typical lengths of necklaces for both women and men that you can use when planning our your design, along with how each style is ideally worn to get the most impact.
Ideal Necklace Lengths For Women
Your choice of necklace can very often make or break the look you're going for when putting together an outfit. A wrongly chosen necklace can make you or your outfit look heavy, over-powering or off balance; whereas the correct necklace can lift the choice of clothes you've picked, create a visual illusion of more height or shape and generally exude a much more styled and polished persona.
When it comes to creating your own necklaces, you can choose any length for your finished piece - however if you consider the overall design of your piece and where you want it to hang, you'll be more likely to be pleased with your finished article, than if you just make it until you a) get bored, b) run out of certain beads or c) go with your usual length as that 'always works'.
Here's a guide to the standard necklace lengths for women:
If you like layering necklaces, there isn't really a standard length to follow. Instead, consider the neckline of the clothes you're wearing, and where you want the top and bottom layer to sit. Also consider the 'weight' or balance of the strands in between these - do they sit comfortably against your clothes or skin? Are they too 'heavy' or 'busy' against the pattern or shape of your outfit? Does the clasp you've chosen allow all the strands to sit happily against each other or are they fighting for space?
There are also times when a necklace doesn't quite feel right too e.g. very low or plunging necklines or high, thick halter necks. It might be better to go with statement earrings, bangles or rings instead, as this will compliment your busy neckline.
Ideal Necklace Lengths For Men

Necklace lengths for men can be slightly different, as there isn't as much choice:
?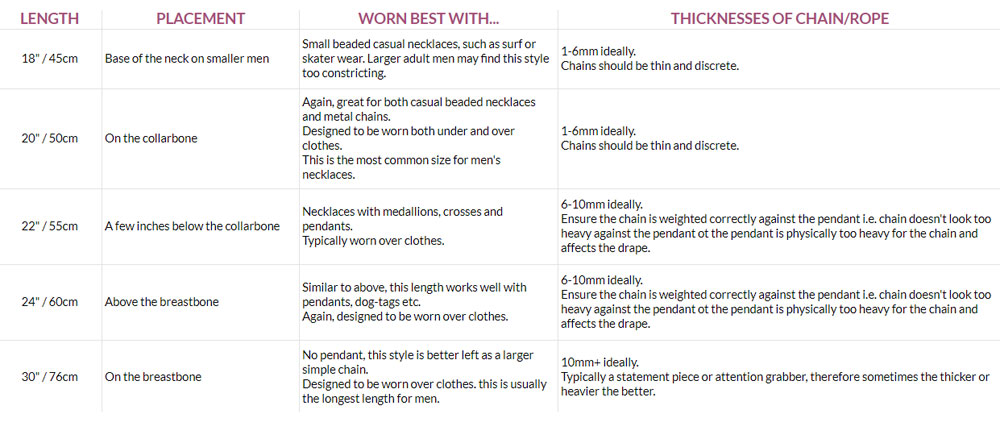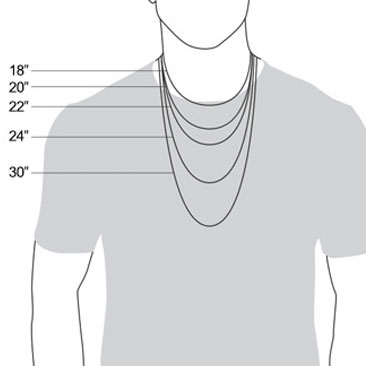 As always, all of this information is a guide and there are exceptions to the rule (and hey, who are we to tell you what you can and can't wear?!).
We'd always suggest trying on and making sure you're happy with your design before putting on any final clasps or closures. And if you're still unsure on your final wardrobe choice, you could always follow Coco Chanel's advice on accessorising: