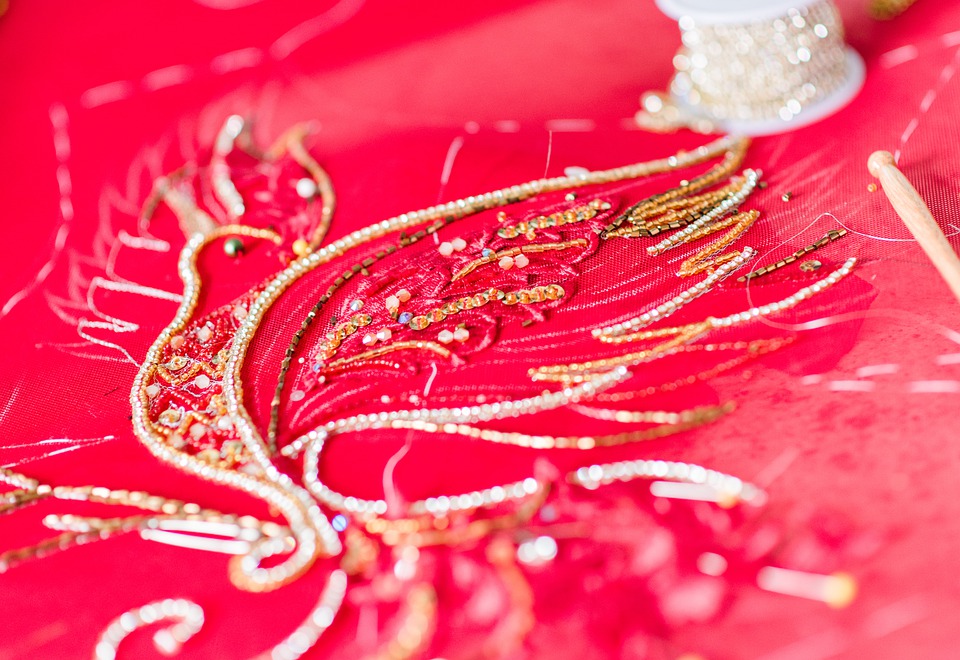 What is bead embroidery?
Bead embroidery is a unique and beautiful form of beadwork that uses a thread to stitch beads to the surface of the fabric. The history of bead embroidery goes back several thousand years and archeological research shows that people were making beads from seashells, seeds, and any other materials they could find long before the major ice age and used them to decorate clothing and accessories in both simple and elaborate patterns.
Traditional bead embroidery is a technique performed by hand which requires skill, time, care and attention to detail, which is why beads were often used to embellish the clothes of kings and nobles. Even now, bead embroidery and beading are traditional techniques that continue to be an important part of many cultures, and bead embroidery can be frequently found on clothing, accessories, and even household items. But one of the biggest and modern uses of bead embroidery nowadays is in costume making in the dance, film and theatre industry.
Beads in costume making
So why is bead embroidery so popular for costume making both on stage and screen? One of the main reasons is because beads are a perfect way to add extra texture, colour, and pattern to costumes. Beads can really make the garment or accessory piece stand out.
Beads for embroidery are also great for adding extra shine and sparkle. Some types of costume beads beautifully catch the light, which is fantastic for capturing movement such as when dancing or performing on stage.
In addition, beads are commonly used to add some authenticity to historic costume pieces for theatre productions and film adaptations, such as classic Shakespearean plays or TV programs such as The Crown.
Bead embroidery plays a very important part of many cultures and historical references, so it's important to get it right. Think about well-loved period pieces such as Downton Abbey with 1920s-style dresses, where without beads the costumes simply wouldn't be historically accurate or anywhere near as beautiful.
What are the best beads for costume making?
If you're planning on decorating your dance costumes or dresses with beads you may be overwhelmed by the huge variety of different costume beads available to choose from. Below we outline three of the best beads for embroidery that are often used for dance and theatre costume decorations.
Seed beads, such as Miyuki seed beads or Czech seed beads, are small round beads. They are very commonly used in costume bead embroidery and are perfect for decorating fabric with appliques and patterns. They are also great for making bead fringes or tassels as they move beautifully together adding charm to dance costumes. You can buy wholesale beads for costume making online at CJ Beaders.
Larger round beads, such as Round Czech Beads or acrylic Miracle Beads are another fantastic choice of beads for costumes as these are great for adding extra texture and colour to your piece.
Another great option when it comes to choosing beads for dresses and costumes is faceted beads, such as Cut Miyuki Delica beads. These are also round beads, but they have square-cut ends and have 6 (hex) facets around the circumference. These 'cuts' or facets are great at capturing different lights and will add beautiful sparkle and shine to your costume design.
Shop beads for costume embroidery at CJ Beaders
We hope that this guide has given you a little insight into the best beads for costume making.
If you're new to bead shopping and not sure which beads to choose from, then why not visit our bead shop in Dorset and look at beads in person. Our team will be happy to answer any of your bead-related questions. Alternatively, reach out to us on 01202 798151 or fill out our online contact form and we will get back to you.
At CJ Beaders we stock a fantastic range of beads for embroidery in a vast variety of colours as well as small and wholesale bead packs, so you are sure to find something for your design. Browse our selection of beads for costumes online today.