Clay Beads 4 Kids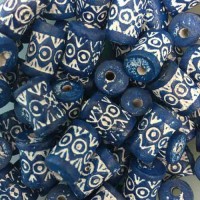 Our clay beads are lovely and colourful, and have a distinct tribal or Aztec feel about them. They come in lots of shapes and sizes and a range of earthy colours to make any piece of jewellery or beadwork feel like it's come straight from the earth.
Kiln fired clay beads have been made for centuries and have been a favourite for all sorts of crafts from jewellery to macrame. The kiln firing process makes the clay bead durable resisting cracking, chipping, and breaking - perfect for little fingers to use!
Also included here are our Fimo beads. Durable, colourful and funky, these beads are great for quirky styles!


---
Showing 1 to 26 of 26 (1 Pages)