Miyuki Size 15/0 Japanese Seed Beads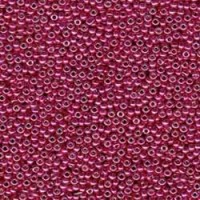 The smallest of Miyuki's Seed beads. Round in shape, they are precision made such that all beads are identical in size - so important with beadwork. Supplied in 8.2g or 100g packs. An 8.2g pack gets you around 2,050 beads on average - the actual number does depend upon the bead finish, plated beads are heavier, transparent being lighter. The beads are 1.5mm in diameter and have a 0.7mm hole, so for beadwork we recommend using a smaller diameter of Needle and a thinner thread.
The colour code is a 4-digit number and this colour code is the same across all Miyuki beads EXCEPT Delicas, which have their own colour codes.
---