Miyuki Size 15/0 Japanese Seed Beads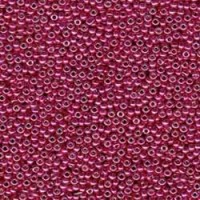 The smallest of Miyuki's seed beads, the Miyuki size 15 seed beads are round in shape and precision-made to all be identical in size, an important feature in beadwork. Our Miyuki beads in size 15 are supplied in 8.2g or 100g packs. An 8.2g pack provides around 2,050 beads on average.* Some specialist platings are supplied in smaller quantities.
These beautiful Miyuki seed beads are 1.5mm in diameter and have a 0.7mm hole, so for beadwork we recommend using a size 12, 13, or 15 needle and a thinner thread. They are available in a wide range of colours, including both matte and metallic options.
Please note, the colour codes are 4-digit numbers that are the same across all Miyuki Seed beads except Delicas, which have their own colour codes.
For more information and inspiration for your Miyuki seed bead projects, visit our blog.
*Actual number does depend upon the bead finish. Plated beads are heavier, transparent generally lighter.
---